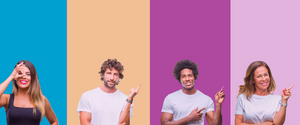 EmbodyArt + EmbodyMind
How did Embodyart evolve?

Embodyart (now including the four other Embody areas) began in 2001 and has grown from primarily offering design services for entrepreneurs and innovative Fortune 500s to quickly adding copywriting and adding more tech as chops grew.

In 2017, I became certified with AccessAlly for building online courses and memberships, a three-year-long journay of learning and growth that's one of my favorite things to do.

EmbodyMind includes the online courses section of this business and website. As a religion major in college, I've always been drawn to the inner workings of our minds, hearts and souls. My practical side loves a good system.

Systems and habits are what allow us to accomplish the amazing things humans can do.

See below for the evolution of the other areas of this business.

To hear more about my journey, see the About page.
How far in advance do I need to book?

To schedule a consultation, I'm booked a week out. Just check the calendar here. For larger projects, it depends. I only work with a handful of larger projects / clients each year and many continue for years. So let's talk if you're interested so we can get planning. For smaller projects like the Tastings Menu, I can likely fit you in so definitely book a consultation to get started.
How long does a project take?

Rough timelines are as follows:

Courses / memberships: 3–4 months
Pro brand: 6 months
E-commerce: 3–4 months
Total package: 12 months
Dream job package: 1 month
Tasting menu items: 2–4 weeks
Custom projects will be estimated. 
What if I need something that's not listed?

Anything you need communicated I can create. If you look in the Portfolios section, you'll get an idea of how many and how diverse the items are that I've created. Look through the Portfolios and if you want to create something not there, send me a note. The sky's the limit. Board games, exhibitions, car wraps... just get in touch.
How do I pay you?

For Tasting Menu items and EmbodySystems self-serve items, purchase directly on this site. You can also submit deposits for Embodyart and EmbodySystems larger project packages through the product listings here.

If you're not paying in full for an Embodyart or EmbodySystems project, followup payments are accepted by credit card, set up at the project start. Your initial deposit is processed upon project acceptance. Subsequent payments are automatically processed on the 23rd of each month (or an agreed-upon date) until completion.
What software and tools do you use?

Countless hours spent testing and researching tools for the best solutions have led to great systems. I use the following essential software:

Basecamp for project management
Wordpress with the Divi theme for web design (with key plugins)
Shopify with the Impulse theme for e-commerce (with key apps)
AccessAlly for course / membership sites
WPEngine for Wordpress web hosting
Adobe Creative Suite for art and design
Ontraport CRM for e-mail marketing and automation
Gravity Forms for online forms

Plugins and coding tips are researched continuously. I'm also a typography and font expert with 10s of thousands of fonts in my library. 

I design on 4 screens at the same time: desktop, laptop, tablet and phone — to make sure your site and materials look and work great on all devices. I'm an all-Mac designer forever. I read marketing books. I'm always learning.
Are there any outside expenses?

Depending on your project, there may be relatively small necessary outside expenses. Examples are:

Websites & courses require (renewed annually):

Domain name (about $20/year) and a second or subdomaiin for a course
Web hosting whether Wordpress or Shopify (approx. $35 / month)
SSL certificate for security; included with my web host (normally around $99/year)
Divi theme (discounted through me)
Stock art copyright-free imagery for unlimited use (one-time charge of $169) — well worth no worries about copyrights
Plugins & Apps ($10 to $99 range and many I use are included for you at no charge)
A CRM, e.g. Ontraport is needed for your course or membership (cost varies based on list size)

You may want / need:

Acuity scheduling software (approx. $14/mo)
Wistia or Vimeo video hosting if you use video (varies based on options)
Soundcloud if you'll use audio (free or paid)

For print jobs, I've got established relationships with printers to get you great pricing for great quality. 
Do you offer maintenance?

Many clients choose to have me maintain their sites after we've built and designed it. I'll offer you a custom solution where besides updating necessary software monthly, I'll include tasks you'd want anyway like updating a menu or something particular to your business, to make it a win/win.
EmbodyHome + EmbodyWear
How did these lines evolve?

EmbodyHome started with my rug designs. I always wanted to design and sell physical products so the rugs were my beginning.

EmbodyWear traces its roots back to my dancing days with 5Rhythms (although it really started in childhood since I've always loved clothes and have many childhood clothing sketches). I wanted to design a line of dancewear for 5Rhythms because that practice has a stylish crowd with a unique fashion flavor that's under-served, though vibrant.

The collections you see on this site are offered through my affiliate partners with my own stylist take. My curated listings are to help you create a gorgeous, cohesive home and wardrobe. I'm so happy to offer menswear, as I feel there's a lot more to offer men who deserve just as much as women to express their individuality, sensuality and swagger through their wardrobe.
What products do you design?

I design all the rugs offered on this site. Bathmats are a combination of my own designs and my curated choices. Everything in Embodyart and EmbodySystems is my own design.

The EmbodyWear collectioins are offered through my affiliate partners. These collections represent my take on style and function. Everything I present is something I either own or would buy for myself and my clients.
Who are your affiliate partners?

I'm proud and excited that my affiliate partners are vast. Companies from Anthropologie to Neiman Marcus, Banana Republic, The Container Store, Kate Spade and so many more. Through these relationships, I'm able to present to you products I love, believe in and that are of high quality. My collections represent my spin on style so you can create your own beautiful home and wardrobe.
How do you choose collections?

There are pieces I know and love for years. Those are a "must have" in my collections, whether clothing, furniture or accessories. As a designer, I've spent years testing products for aesthetic appeal, function and usefulness. I want what you get from me to serve you amazingly.

Then there are always fun new items. Art knows no bounds and discovering new items and artists is an endless source of fun for me and for you.
How often are new products added?

New items are added continuously, every week. Seasonal selections are made with an eye towards what you'll want for each time of year.
Can I request a specific item?

Definitely let me know if you're looking for something specific. I'd love to help you find it if I can or offer a great alternative.
How do returns or exchanges work?

Return and exchange policies are according to each affiliate vendor. You'll find their policies when you click through my listings. Custom-made items are not returnable unless they arrive damaged, in which case they'll be replaced.
How does shipping and tracking work?

Shipping and tracking methods vary by affiliate partner and can be found when you click through my listings.

Rug shipping comes from my mill in India and tracking will be sent as soon as I receive it.
Got a different question?
If there's something you'd like to know or are curious about, please ask.